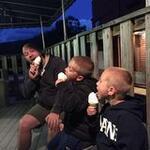 ---
Similar Content

By

Claire Smith

Is there a wiring diagram for a wheelhorse R26 Tecumseh engine 5.5hp - changed points and condenser, engine turns on key but no spark. !! Any ideas?? 😊





By

70.5TransAmDan

Hello Everyone, my name's Dan and I'm a wrenchaholic.
 
Um, sorry. 
That's Thursday nights meeting.
 
First, thank you to all you old farts out there like myself and don't get me wrong. There are many young, Old Farts in this world also.
I think of anyone that sees beauty deep inside an old tractor, samurai sword, and yes, even a lovely lady could qualify also.
If you're the type of person that has the patients and other qualities that's needed to bring beauty and life back to something others see as old junk, or past it's prime, you're my kind of person. 
 
To the point now.
I ran across a 1980ish Argo 8x8 Amphibious vehical for the right price the other day, FREE, and of course it has the infamous Starter/Generator system. Also, it's had many unqualified druggies, and electrical experts, work on it before me.  I'm retired union electrician and fiber optic engineer so I was once qualified but,. But,. But, what was I talking bout?
You get my point. 
So, I was wondering if anyone could possibly point me in the direction of a midg,,,,,,. Wait,. Little Person, preferably a female and  blonde, so I won't have to do so much bending over working on this darn thing and while you're at it, maybe a wiring diagram for a complete starter/generator including a three wire voltage regulator? 
 
If you have information on either of these, the help would be most appreciated. 
Really, she doesn't even have to be blonde or little.
 
That ought to show you just how willing I am to work with others.
 

 
Thank all of you here for sharing your wisdom so it can be handed down for others to learn. 
 
70.5TransAmDan 


By

Gingerbread

I'm new to this and not sure if I'm doing this right, But I have a 211-4 with a Briggs 11hp and the thing was sold in my town years ago when it was new. it was my grandfathers till now so it's a nice piece of history. and it has some electrical problems I can't figure out, It blows the 15Amp fuse as soon as you turn the key, it all started after the I had to replace the the ignition switch. And now it just blows the fuse. I messed with it when it happened but I have been away in the service for about two years, but now I'm on leave and want to fix my pride and joy but don't know if my wires are all in the right spot. And my brother actually hooked the battery up backwards by accident for a few seconds while I was away so don't know if that did anything. So any helpful suggestions or pictures for an example to look at. Thanks


By

Chuck14025

1994 520 H.   Starter just clicks.
1. Battery 12.6V, load test OK.,    New solenoid. Ground good. Key switch tested ok. Wiring diagram shows a 'kill' relay - I can't find it on the tractor. Checked the 3 relays under the battery box - they work. Neutral switch, PTP and seat switch work mechanically. 
2. Not able to find article on this problem when searching. There must be dozens. How do I find them?
3. Can I test the starter without taking it out?
4. Is there a 'kill' relay? 
 
thank you...
 


By

richm1386

Quick story and a couple of questions concerning replacing the ignition coil on my '89 416-8 with Onan P216 engine. 
 
So I got this old tractor from my Dad when he replaced it and it was running okay until a few weeks ago. Was picking up sticks and hauling them out to the wood pile when I idled down the tractor and then it stalled out (which happens all the time.) I tried starting again and it would not turn over. The starter would go and go but no ignition. I spent a lot of time on these forums and found some really good info including the service manual. I used that diagnose the problem and figured out the coil was bad. I ordered a new off brand coil and condenser from Amazon for $40 swapped them in last night and it fired almost immediately. Plus since I had taken the shroud off and disconnected the throttle cable it was idling well at very low throttle. I've still got to reassemble everything properly but it seems like the coil was the culprit.
That said I've got a couple questions.
 
1. Anybody have any luck with non-Onan coils?The one I got from Amazon seems well made but it is literally some no name part. I figured for $40 it was worth a shot.
 
2. Does it matter which spark plug attaches to which plug on the coil? I forgot to take a photo before I disassembled. 
 
3. Could a failing coil cause very hard starts and stalling at low idle? I'm asking because as I said above the tractor has been very hard to start for years. Almost always needed to choke it. It would also stall out if you idled down nearly every time. Just the brief testing with the new coil that I've done, both of these issues seem much better. Also I used my Dad's replacement (early '90s 416-h with same engine) for this tractor while working on mine and it started and idled very easily. It looks like it might have a replacement coil as well. Just wondering. 
 
Thanks all.