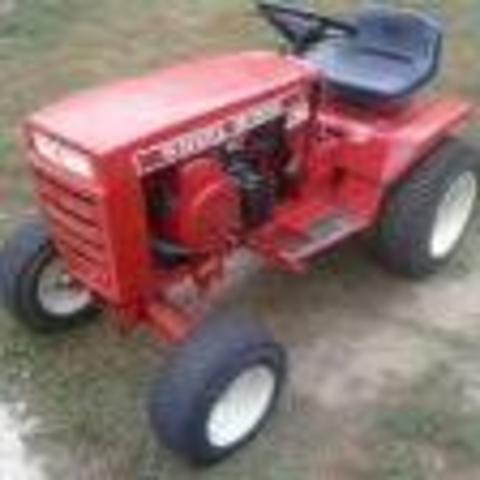 ---
Similar Content

By

Joe Warren

Power King Tractor Push Blade/Plow Scraper Bars
 
New Old Stock
 
48" and 54" bars available
 
Power King part numbers 51-4421 (48") and 51-4422 (54"), Item #44 in diagram
 
$49 each plus shipping
 
Please message me if interested. Thank you. Joe
 





By

RJ Hamner

Will the plow I am using on my C121 and C160 work on a 876?  
or is the plow frame different?
Thanks
Bob


By

Nuzmuz

Just wanted to show a modification I did to my 1990 310-8. I recently picked up a 36" tiller for my horse and I tried it out on my new garden area. After hitting a rock, it knocked one of the axle brackets open dropping the right side of the tiller. On a manual I viewed, it had clevis pins to hold the lever in, but my bracket did not have them. I drilled a 1/4" hole through on each lever and mounted a 1/4" clevis pin and hairpin cotter to reinforce the lever. I read on another post to just tighten the bolts on the levers, but I think this will work a little better. Hope this helps someone!





By

ToroMan

Good afternoon, looking for some help regarding a plow assembly for a 1999 520xi model # 73542.  I'm told that a traditional Wheel Horse plow assembly will not fit this tractor, that the xi series requires a special plow assembly.  Problem is, most of the people selling plow assemblies don't seem to know what they have, and I don't know what I need!  I have included the supposed model numbers pulled from the Toro website, including that of a retrofit kit, but I'm not sure what that retrofit kit does! Does it enable me to fit a traditional Wheel Horse plow to an xi model? Don't know.  One guy selling a plow knew what type of plow he had and told me it would not fit my tractor, stating "Lift link and handle are in the wrong locations."
 
Any help would be greatly appreciated. Just need to know what the hell I'm looking for, which might help me find it!
 
From Toro site:
 
Model #: 79355
48" Snow/Dozer Blade
 
Model #: 95-4090
48" Dozer Blade Retrofit Kit
 
Thanks!!!
 


By

Marc M.

Hi guys I'm new to the wheelhorse world and i recently picked up a for 416-H and I'm looking to buy/install a plow put on it. I have found one on craigslist but I can't tell if it will work on my tractor or not, it is a wheelhorse plow though. Can somebody please send a photo or even a video of how to hook up a plow to a 416 or equivalent tractor?
Attached is my tractor and the plow I'm looking at. Will it fix and what's it missing ?!