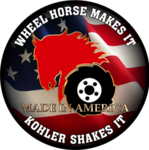 ---
Similar Content

By

Jayzauto

GMorning Gang,
       Last year I had purchased an old C175 with blown engine and all the attachments the owner had with it, including the FEL.  He gave me everything he had, or thought he had.  It was quite a pile, requiring 2 trips.  Of course, in the heat of the moment, it appeared everything was there, except belts for the most part.  He even had most of the original documentation.  Now I know what your thinking, and you'd be correct...... everything was Not there. And as we all know, it's the little things that hold up the project AND seem to cost the most money.... mot to mention the heartache.  But, I did find an engine, got the tiller installed and working, the plow mounted, the deck running.  Now for the Big hit..... The FEL.  I do seem to have most of it.... The bucket and arms assembly, lower frame, weight box. weights, chains and even the pump , with brackets that was still mounted to the blown engine.  The show stopper here is what is called the "Front Mount Assembly".  It mounts to the front of the frame, and the stabilizer arms to the posts attach to it.  It also has a couple of hose brackets that hold the hydraulic hoses from flopping around.  I did look around, and none appear to be available...Big Giant Surprise.  I can't imagine anyone parting it out, even IF they knew what it was.   But I pretend to be a welder and have Fab skills,
(Sorry, that should have read Fab Equipment), So I'm sure I could Hack one together if I had measurements.  The grainy B&W photo in the manuals make it look very simple (Hahahahahaahahahah).....Anyways, is there anyone that would be willing to take a couple color shots And Measurements of their "Front Mount Assembly"?
Or rough estimates, then I can Make up something clos, and tweak it after its installed.
 
It appears to be the Ark style Loader, with the catalog number of 97-40FL-01.   The actual part number of the bracket is: WheelHorse 260932 (part #36 in the pix)
 
Again, it looks like it attaches to the front of both Frame rails and loops around the front.  It attaches with 4) 3/8" bolts and would have the hoses attached to it.  It looks like it loops close to the front of the frame, meaning the mule drive would have to be removed, maybe even the Attach-A-Matic front bracket too.  And its job is to give the Brace Arms a place to attach to.
 
Wish I had more info to give,  
Can anybody help me out?
 
Thanx in advance,  Have a Great weekend
Jay
I'll accept any form of communication, Calls, Texts, Emails
781.630.0338
 
 


By

tristan watson

I'm looking for some help I'm wanting to fab a mid mount grader for my '73 10 automatic but I'm looking for someone who has one to measure it i have been looking online for the last few days and can't seem to find anything so if anyone know what the measurements might be or a webste where i might find anything i would really appreciate any help i can get on this thanks.


By

608KEB

I gave my 12 up case hydrostatic  to a friend. He bought a case 48" snowthrower. I was wondering where I could find a  manual for the snowthrower and the tractor. He needs to know what kind and how long of belt he needs for the snowthrower. 


By

Paps518h

Hey I've got my grandads old 518h I want to do a full restore but I need a deck and someone that knows how to put it on lol,......first post,first horse 


By

bizzo15

Good morning Wheel Horse experts!
 
I have a gentleman that is interested in purchasing my 312-8 because the hydro rear end went in his 70's vintage charger 12. He'd like to be able to use the existing attachments he has with the 312 and asked me if I knew if they were compatible. I did a little searching and couldn't find a clear answer so I thought I'd defer to you guys. Will he be able to use his charger 12 attachments with a 3 series tractor(mower deck, plow blade, etc.)? Or are they not compatible. I know c series attachments are compatible but not so sure about the charger tractors. Thanks!