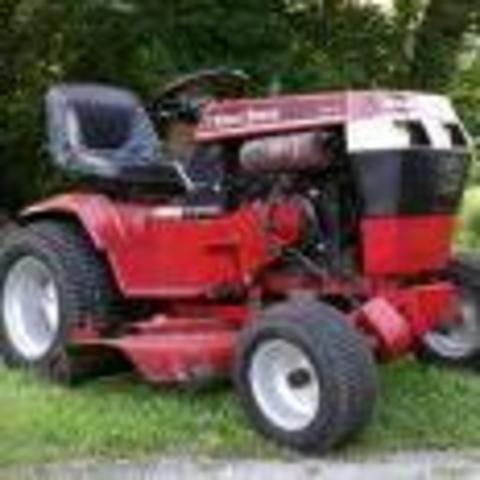 ---
Similar Content

By

PWL216

Looking for a good to very good condition hood. Thx


By

22GO

1979 C 8 speed tranny model with 14 hp Kohler engine and plow attachment, Runs good but ignition switch doesn't work and have to jump start over solenoid. Right rear wheel hub lock bolt won't hold and hub slides in on axle. Not sure why, out of round hub axle hole? Still use it regularly though with hack fix. Plow blade is badly worn out along the knife edge.






By

Truckedup1

I have a very recently restored 1989 wheel horse 520-HC tractor with 60" deck. Family owned for over 10 years but now it's time for another project. Please contact me with any questions I have the original 60" deck but it was rough so I sourced the current deck off this site, it really is in excellent condition for not being restored.




By

jleitschaft

Hello All,
      New to the group and looking for advice. My father was a devoted wheel horse enthusiast for many years. He only cut grass with a wheel horse tractor (rear discharge deck) pulling a Parker lawn sweeper. We have a lot of property and it took him a while but he was retired and loved being on the wheel horse. When he got sick, I had to take over all the lawn maintenance. All of our family lives close on the same road. At the time, I was responsible for maintaining 7 properties plus my fulltime job. Using the wheel horse was not an option for me so I bought a commercial zero turn mower.  Unfortunately, in 2017 my father passed away. I have all his tractors and it has been hard for me to think about what to do with them. He had 6 wheel horse tractors total. 3 tractors we used for cutting grass and 3 tractors are show pieces that have never cut a blade of grass. I have a few guys that have been asking me for years to sell them but I am not sure if I'm ready. I am turning to the group because I am lost at what I even have. Its my belief that the tractors are rare and the conditions are mint. If anyone would be willing to express their opinion and provide feedback I would be grateful.
Wheel horse 420 LSE (shows 7.5 hr)
Wheel horse 520 hydro (shows 92 hr)
Wheel horse classic GT (shows 26 hr)     






By

lodestonefarm

Selling my trusty WH520H.  ~880 hours (currently used for moving snow when needed so hours may rise) very solid machine, strong and hardworking.  20HP Onan, hydro transmission and hydraulic lift.  Has Matt's foot-pedal conversion for forward/reverse.  Included in the sale is a tall-chute snow blower and 60" mowing deck.  The blower is in excellent condition and is on the tractor currently.  The mowing deck has been a workhorse over the years.  No holes but could use some TLC, probably needs new spindles at some point and could use a couple spots touched up with welder also does NOT have any pulley covers/protectors (see photo).  Tractor has been an incredible tool, very solid and dependable and I'm certainly going to miss her when she's gone.   
 
Recent maintenance: replaced the plugs this summer, fluids as needed (hydro has about 100 hours on fluid/filter; oil was done in the spring and has about 25 hours on it).  Battery is about 3 years old as are the tires, Terra Trac tires on the rear and turfs on the front.  The seat (with arm rests) isn't in great shape.  I've got a cover for the seat, never used.  It's never really bothered me but new seat cover is included in sale as are 4 hub caps, chains for the rear tires, and some misc spare parts (see photos).  
 
I've owed this machine about 8 year and put ~350 hours on her.  She's not a show piece but could be restored.  Sheet metal is generally in shape, no rust however the hood does have a couple dings in it.  
 
I'm only selling because I'm trying to help my son get a small lawn care business started and looking to move to a zero-turn.  The 60" deck is too large for our trailer, the mowing deck lacks pulley safety shields, and we'd like something that mows faster.  My only complaint with this machine is the top-speed (which isn't great when comparing to today's machines) otherwise she's a beast.  They don't make them like this anymore.