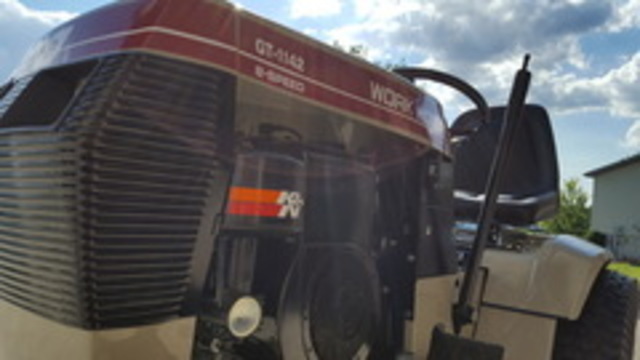 ---
Similar Content

By

john65002

Well, this has been a nightmare and a blessing the past week. I was scrolling across Facebook marketplace and came across a tractor I had never seen nor known about. I have(as far as I know) all advertisement and manuals on the Work Horse line and had never seen a RR-832! Even after doing a lot of online research, barely anything seems to be known about these. I found one manual that includes A-81/A-111/ and mentions the RR-832. 
 
Anyways, I attempted to contact the person selling the Work Horse on Facebook and purchase, however she thought I was a "scammer" and didn't really want the tractor. Within 30 min it was listed as sold  So, I started doing everything I could to track another one down. I found just ONE example on Youtube, and that gentleman sold the unit years ago. I found another SINGLE example on this forum, however it was slightly customized and the owner hasn't been active for awhile. What to do now? Well...buy a A-111!
I put out a post looking for a RR-832(Still willing to buy a true one with cash in hand from any state) and a young man offered the below A-111 for $150. I couldn't complain with that price! So, we worked out a deal, I had him payed, and I set up shipping. Four days later it was sitting in my driveway. I'm going to go through the process of "converting" the A-111 to the RR-832. Give me some good luck  If anyone has any information on the Work Horse, I would greatly appreciate it! 
 





By

Kyle G Cantrell

Trying to restore a 1971 Wheel horse Workhorse 800 model 0100, It has a tecumseh HH80-110112D. 
I cannot find any parts at all for this one, I've checked everywhere I can think online. This is my first restore, looking for some help to find parts or what I can use (swap) to keep it close to original but also functional. 

Also the fly wheel has two **** that stick up off it that the coil passes and one is broke off. Is that a problem, I'm a mechanic but this thing is old and with no info it's a guessing game. 

Parts needed so far:
 right side running bored/footrest
Left side engine cover
right side pulley cover
Ignition coil
Main drive pulley bearings 
Hitch pin (goes through trans case) 
 
*NEW TO SITE, WILL CHANGE IF POST INCORRECT* 





By

drewd

I need to buy tubes or new rear tires for my 1971 Workhorse 800.  It has the original 22.5x7.50-12 Wheelhorse branded tires but sidewalls are leaking and one no longer holds air for more that two days.  Searching websites brings up various sizes but not the original.  Would a 23x9.50-12 fit this tractor?  I have a 36" RD deck on it.  Any other sizes work on this rim and tractor?
 
Thanks!


By

Blackhood Bill

Well took sometime off on rebuild to go look at and of course bring another  one home.






By

Machineguy

Hello everyone!
 
I finally picked up a Workhorse 700 and I'm doing a restoration with the exception of a Kohler K321 in place of the scavenged Tecumseh. Anyone done a similar swap and had trans issues or breakage problems? This isn't going to be a puller, just gonna keep a 42" snow blade on it  for small snows and use it for light duty towing and putting around. I have the engine sitting around from another repower project and I have access to a large variety of machine tools and fabricating equipment. Any thoughts?